Hallo,

It's been a while since my last Gocco related post and I've been just got around to finally giving it a whirl.
For any would-be-Gocco-users I'd just like to say that I found the tutorial over at the Small Object very helpful as the images in the manual aren't very clear, and if you are without a manual then the tutorial is essential reading.

Anyways, here's a peek at my first attempt. I think it will take a few experiments to really get the hang of what can be done. I noticed that the colour of ink you choose seems to make a difference to how much is needed/ how quickly it dries(possibly the consistancy is slightly varied from one to the next).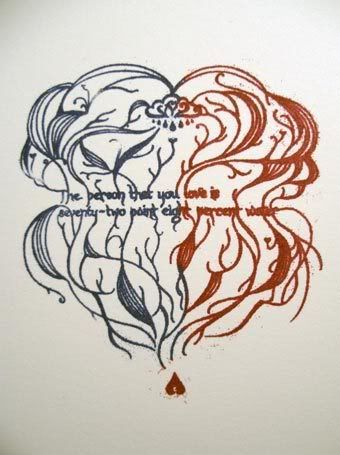 It says "the person that you love is seventy-two point eight percent water" in case you were wondering. Just a quote that I found in Alan Fletcher's book 'The Art of Looking Sideways." It was also slightly relevant because of it being St Valentine's day.
Happy Valentines.