Hallo again,

I was out at the printing studio again last night and finally made some progress on my business cards. Having satisfied myself with the design, I printed lots - but now I want to change bits again! This most probably isn't the final design.



This one is the design I printed most of, and the one I would probably use.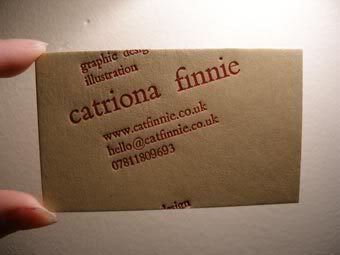 This one is a bit quirkier... I had to print on the card twice to make the word "design" appear as if it was edging off the top of the card and re-appearing at the bottom.

In case you're interested, my name is printed in Bembo 30 point, with everything else in Bembo 12 point type.